A nationwide billboard campaign is being launched today across the country accusing Theresa May of being a 'threat' to our public services
. The People's Assembly has hired over 40 billboards, mostly in key marginal seats, which display a large picture of Theresa May with the words 'I am a threat, to your local hospital, to your child's education, to your standard of living, to your job security, to your pension, to you peace and security'.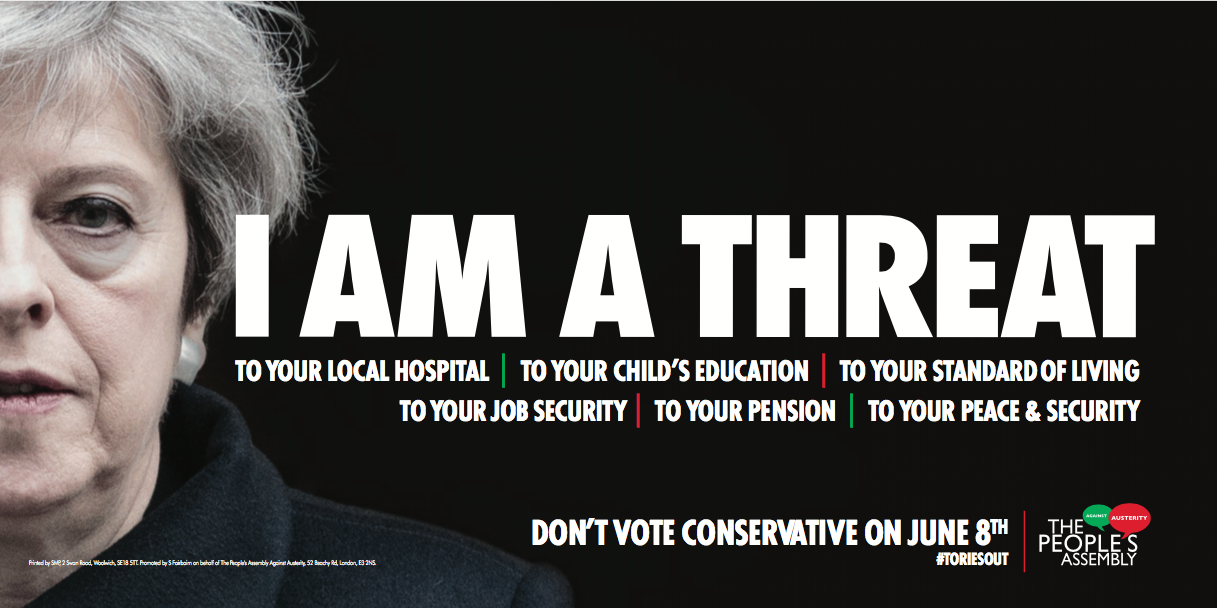 We are launching a crowdfunding drive alongside the billboard campaign so we can organise more advertising in the last week of the election campaign
. We want to put up more billboards, adverts and organise actions across the country to expose the truth of Tory policies. We're taking back space that's usually only reserved for the big business and corporations. The more money we raise the bigger impact we can have, but we only have a very short time to make this happen and we've now used up every penny we have! The Tories get massive donations from a few millionaires but we have the strength of our numbers. Please donate!
Sam Fairbairn, National Secretary of the People's Assembly, said "
She is a threat to everything we rely on from cradle to grave. The crisis in the NHS was created by the Conservative government and they're doing nothing to address it. She's snatching free school lunches off infants while her plans to restructure our education system will leave schools without proper funding. University students are being strapped with lifelong debt. Employers are allowed to get away with paying poverty wages on insecure or zero hour contracts and she wants to rob people's houses from them & their family cover the costs of looking after them in old age."
"In one of the most important elections for generations we want to expose the lies behind Theresa May's soundbite rhetoric. We'll do everything we can to make sure Theresa May and her government for the super rich isn't returned to Downing St."
We're also asking everyone to get down to one of the billboards and take a snap and share online with #ToriesOut.

Why not save the image and make it your cover pic on Facebook or Twitter?
FULL LIST OF PLACES HOSTING THE POSTER (so far!)
Barking (Rainham Road)
Barking (Ilford Lane)
Birmingham (Summer Hill Road)
Birmingham (Tyburn Road)
Birmingham (Lichfield Road)
Birmingham (Bordesley Green Road)
Birmingham (Lodge Road)
Birmingham (Long Acre)
Birmingham (Bordesley Green Road)
Birmingham (Bordesley Green Road)
Bolton (Bury New Road)
Brent (Chamberlayne Road)
Bristol (Laurence Hill Roundabout)
Cardiff (Cowbridge Road West)
Cardiff (Cathay's Terrace)
Cardiff (Nantgarw Road)
Carlisle (Port Road)
Coventry (Albany Road)
Croydon (London Road)
Croydon (Stafford Road)
Croydon (Purley Way)
Leeds (Bridge Road)
Manchester (Grosvenor Street)
Manchester (Oldham Road)
Manchester (Rochdale Road)
Manchester (Hyde Road)
Sheffield (Broad Lane)
Sheffield (Penistone Road North)
Sheffield (Neepsend Lane)
Sheffield (Abbey Lane)
Wandsworth (Garratt Lane)
Wandsworth (Upper Tooting Road)
Wandsworth (Putney Bridge Road)
Manchester (Bury New Road)
Wandsworth (Upper Richmond Road)
Wandsworth (St Johns Hill)
Birmingham (Summer Hill Road)
Wood Green (Turnpike Lane)
Birmingham (Icknield Port Road)
Leeds (Tong Road)
Sheffield (Penistone Road)
Southampton (Mountbatten Way)
Wandsworth (Swandon Way)
Westminster (Harrow Road)
For a full list of exact dates for each billboard you can download the
spread sheet here
.
Please help us do more of this!
Click here to make a donation to the crowdfunding campaign
.
The more you can do to help with this initiative the bigger the reach it will have, so please
make a donation
and get down to one of the sites and help us spread the message online. Let's take back the space and get the #ToriesOut.
Solidarity.
The People's Assembly Against Austerity
http://www.thepeoplesassembly.org.uk/